Tomato Holidays made the best out of Instagram
VOLC had been facing challenges in expanding its dealer network due to  limited brand awareness, a small distribution network, and limited financial resources.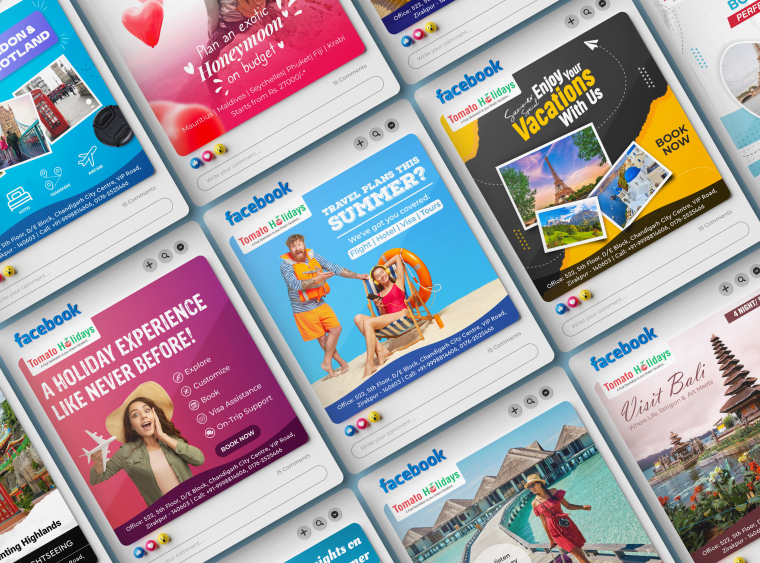 Tomato Holidays is a tour and travel agency based in Chandigarh, they are committed to providing exceptional travel experiences to their clients.
They are dedicated to making dream vacations a reality, and are experts at offering customized travel packages that cater to individual preferences and needs.
Offline business was doing great for Tomato Holidays but after the Pandemic in 2020, they realized that they needed to have an online presence to cater to a larger market and to put up their business right in front of their target audience. Initially, the owners tried to handle it on their own but soon realized that handling Social Media is in itself a very complicated and time taking task so they needed an agency that could take care of it and generate business online.
Wish to elevate your
brand
experience?
Pixel Ideas proved to be instrumental in helping Tomato Holidays grow their business online through Instagram. We utilized Instagram's visual platform to showcase the client's travel experiences and implemented a targeted strategy to generate leads and increase engagement rate.
By creating eye-catching content, leveraging user-generated content, and utilizing relevant hashtags, Tomato Holidays was able to significantly increase its online presence and generate leads. As a result of Pixel Ideas's efforts, Tomato Holidays experienced a significant boost in bookings and revenue, proving the power of digital marketing in today's business landscape.
Hiring Pixel Ideas provided a multitude of benefits to Tomato Holidays.
Firstly, we helped in increasing their online visibility by creating and implementing a comprehensive social media strategy. This included creating engaging content, developing targeted campaigns, and analyzing performance metrics to optimize results.
Secondly, Pixel Ideas helped Tomato Holidays build and maintain a strong online presence across various social media channels, especially Instagram. This helped them reach a highly relevant audience and engage with potential customers on a more personal level.
Finally, by outsourcing social media management to Pixel Ideas, the client saved valuable time and resources that they redirected toward other aspects of their business.
Overall, hiring a social media agency can provide a significant boost to a client's online presence, customer engagement, and revenue growth.